How do I add a logo to my Knack app?
In this article, you can learn how to add a logo to your app.
To add a logo to your app, go to Settings section of the Builder and select "Live App Design":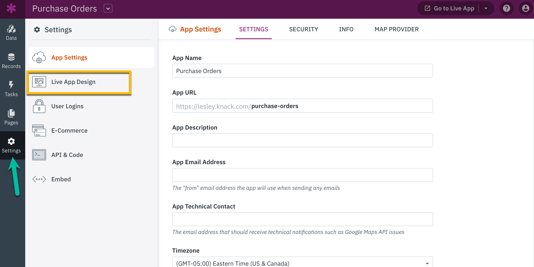 Then, go to the "Header & Page Menu" section. From there, select the "Logo" dropdown arrow. For the "Logo Type", select "Custom".
This will allow you to drag & drop or click to upload your logo image.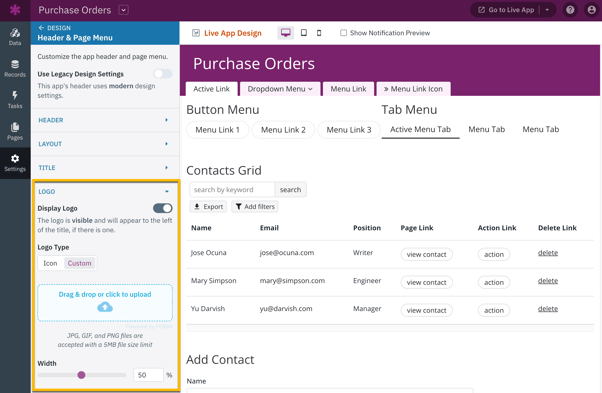 Here's where your custom logo will show up in your app: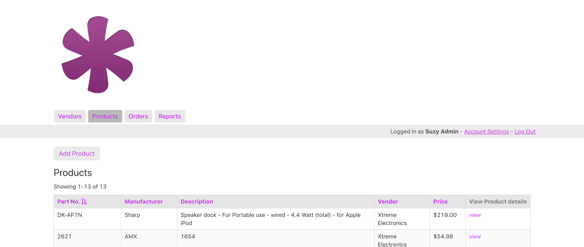 Notes
Logos can't be edited within the Knack builder. They need to be resized or changed prior to being uploaded.
Logos are hidden/ignored on embedded apps.
You can only have one logo per app.
If you want to include your logo somewhere in your app, you'll need to either:

Add an image to a Rich Text view to show the logo on a page
Use HTML to display the image on a form; the HTML can go in the form title, form instructions, or instructions for any of the fields on the form