This article provides detailed information on how to use two-factor authentication (2FA) and enable this additional layer of security for your Knack account.
What is Two-Factor Authentication (2FA)?
Two-factor authentication, or 2FA, is a two-step verification process that can be enabled to add an additional layer of security to your Knack account for Builder access. Upon successful login using your email and password, you will be prompted to enter an additional code for accessing your account.
Enabling Two Factor Authentication
Two-factor authentication can be enabled in the Security section in the Knack Dashboard. Select "Enable 2FA" to get started setting it up.
After selecting "Enable 2FA" you will be prompted to follow three steps to enable two-factor authentication on your account:
Install an authentication app and configure the application. We recommend using either Authy or Google Authenticator as your authentication app.

Once you have downloaded an authentication application, scan the QR code from within the authentication app to add your Knack Builder 2FA credentials.

After scanning the QR code, the authentication app will provide a 6-digit code. Enter this code in step 3 of the setup modal in the Builder to complete the setup.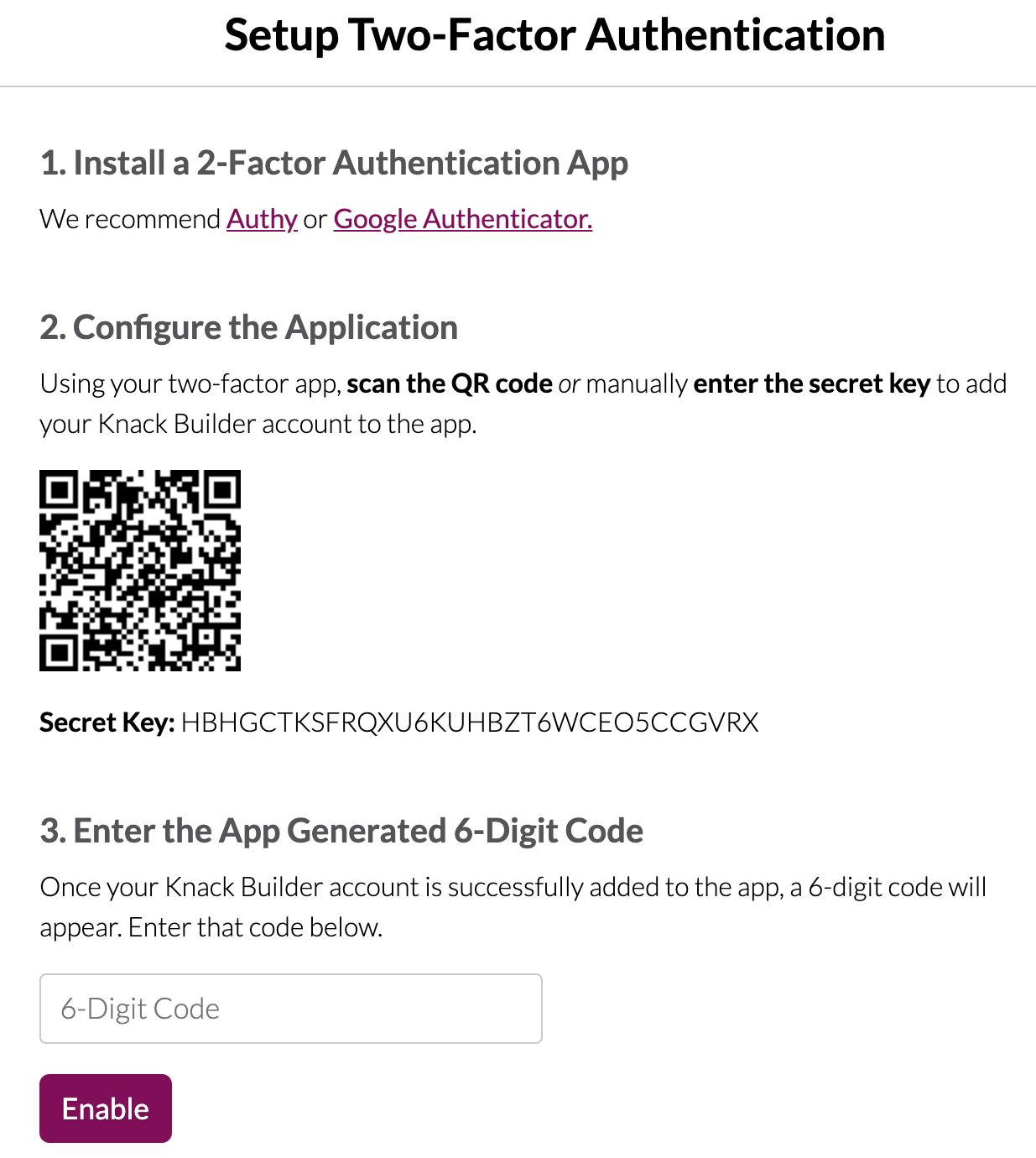 Disabling Two-Factor Authentication
To disable two-factor authentication on your app, select the "Disable 2FA" button in the Security section in your Dashboard.
This will open a modal popup that requires you to enter the 6-digit code from your authentication app. Once you have entered the code, click the Disable button, and two-factor authentication will be removed from your Knack account.
Notes & Troubleshooting
I can't log in to my account.
If you are having trouble accessing your Knack Builder with two-factor authentication enabled, reach out to our support team by submitting this form or by emailing support@knack.com with your account email.
Can I force shared builders to use 2FA for my apps?
Two-factor authentication is only available for individual user accounts. Unfortunately, at this time, there is no option available to require shared builders to enable two-factor authentication.
---