This article will cover managing your account details from your Knack Dashboard.
Account Settings
From your Knack Dashboard, select "Account," which will direct you to the "Overview" tab. Here, you can edit your account name, email, profile photo, and organization info.

Overview
Organization Name: The unique name for your account, such as a company name. Ex. "Team Dashboard"
Site URL: The custom text in your URL for your Knack Builder and what your users will see when accessing your app.
Profile Photo: An avatar that you can upload for shared builders to see.
Account Owner Info: First name, last name, and email address of the account owner. You will be prompted to input your password if you need to change the email address.

This is the email address used to login to your Knack account.
Management
From your Knack Dashboard, select "Account". Then, select the "Management" tab. Here, you can freeze your account or cancel your account.

Freeze Account
If you are not using your app but will need to use it in the future, you can freeze your account indefinitely for a discounted price. This will keep all your apps and data there when you need it.
Frozen Plan Pricing:
Starter: $10/mo.
Pro: $21/mo.
Corporate: $32/mo.
Enterprise 1: $55/mo.
Enterprise 2: $87/mo.
Enterprise 3: $165/mo.
Note: You can only freeze paid accounts once per rolling year.
Cancel Account
You can cancel your account at any time from the Knack Dashboard. Please note that we are unable to cancel your account on your behalf.
Warning: Canceling your account will permanently delete your account, including all apps and data. This cannot be undone.
Tip: Check out Section 7, "Fees; Payment Terms," in our Terms of Service for additional information regarding our refund policy.
User Settings
To change your password or to enable 2FA, select "Security":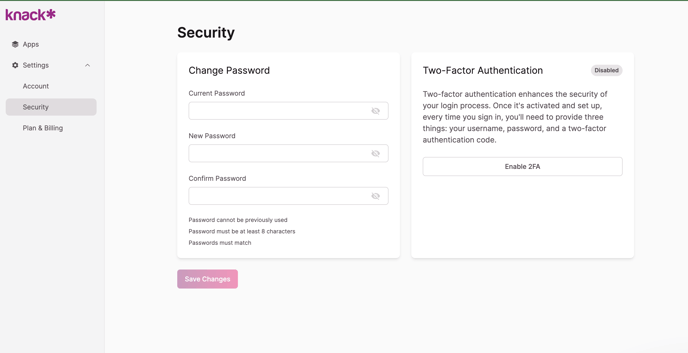 Password: The password to log in to your Knack account.
Must be at least 8 characters
Cannot be previously used
Passwords must match
---