In this article, you can learn the details on how our support team operates.
We understand that the support we provide is just as important as the product you use.
You'll find an expert team at Knack eager to help you build an outstanding app.
What are the support hours?
Our support hours are 8:00 am - 8:00 pm EST, Monday-Friday. While we may occasionally respond to messages outside of this time frame, this is when you can expect to hear from us.
Do you have a knowledge base or any tutorials or videos?
Yes, if you're reading this, you are already here! Our Knowledge Base is split into main sections:
You can also view our Developer Documentation for information on using custom code and our API with your apps.
We also host regular webinars. You can register at this link.
Do you offer chat?
We do not offer instant or live chat, but we do offer a convenient in-app messenger with AI support powered by ChatGPT that is available 24/7. When you're logged into the Knack Builder, you'll see the icon at the bottom right corner of the screen and engage with Arturo, our AI support companion, there.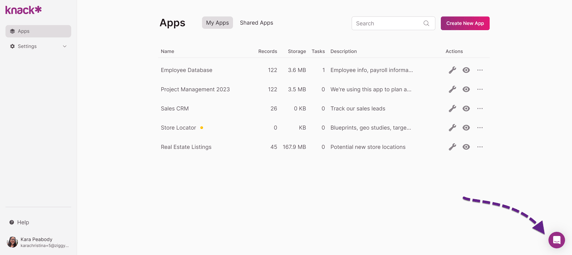 Do you offer video support?
We do not offer video support. However, videos, gifs, or screen grabs showing the issue you're experiencing help a lot. We're big fans of it! Feel free to record a video and visually walk us through a new part of your app you'd like to build or an issue you're running into.
Videos make it easier for us for us to diagnose your concern, and provide thoughtful and detailed responses without delay. This means that we can ultimately resolve your requests faster.
Do you offer phone support?
We do not currently offer phone support. However, we are in the process of updating our service offerings and will soon be offering scheduled phone support at certain plan tiers, or paid schedule phone support that will be available to all plan types.
What kind of response times are typical for support requests?
We always try to respond as quickly as we can, but if things get busy we do have to prioritize requests based on the plan you have:
Starter: 1 -2 business days
Pro: 1 business day
Corporate: less than 1 business day
Enterprise: same day, when possible
For a quicker resolution, please send us the troubleshooting information we need.
Do you have a support forum?
We do! Check out and join our community of Knack experts, team members, and all other Knack customers and prospects at https://forums.knack.com/. This is a good place to get answers from multiple sources with a wide range of experience with Knack.
Posting a support issue in the community may result in a delayed response. If you need help with your account, app, etc., please open a ticket instead here.
Will you help me build my app?
During the 14-day, free trial we're available to help you evaluate the Knack product. We can provide guidance on whether Knack is a good fit for your use case. However, we cannot build your app for you.
If you would like to hire someone to build your app, you can find someone on our Expert Network.
What information do I need to send to get help?
This form contains the information we need to get our investigation started. If you decide to email us, please include the following:
URL to the Live App or Builder where the issue is taking place.
A clear and detailed summary of the issue.
Troubleshooting steps you have attempted before reaching out to support.
How can I send an example spreadsheet or data?
If our support team asks for a sample spreadsheet for troubleshooting imports or building a proof of concept, please sanitize the spreadsheet so it does not include any real user data. We ask this to maintain the security of our customers and yours. Once the data is sanitized, you may send it as an attachment when replying to your support ticket.
Will you help me implement or troubleshoot custom code?
While we're happy to guide you on specific questions on topics in our Developer Documentation, the Knack Support team is unable to test, troubleshoot, or write code for you.
You can read more about getting help with custom code here.
Can I upgrade plans temporarily just to access higher support features?
Not at this time. A 3-month minimum plan history is required to access the respective support features.
On which holidays is support not available?
There are six holidays in the U.S. when support is unavailable.
New Year's Day - January 01, 2023
Memorial Day - May 29, 2023
Independence Day - July 04, 2023
Labor Day - September 04, 2023
Thanksgiving Day - November 23, 2023
Christmas Day - December 25, 2023
Do you offer emergency or after-hours support?
Yes, we do offer emergency support for customers on Plus and Enterprise plans. Enterprise plans include private servers, custom cloud, HIPAA Plus plans, and High-Security GovCloud plans.
Customers with access to emergency support can submit emergency support requests from within the builder and using a special email address.
We will respond to the request within an hour of receiving it. We don't make any guarantees on a resolution time since each issue is different.
Emergency support coverage is 24 hours per day, 7 days a week.
Emergency support requests can only be submitted for the following:
Unexplained data loss (e.g. data sanctity issues or issues compromising your data)
Primary app features no longer functioning (e.g. can't add or edit data)
Unable to load your apps
Note: emergency support does not cover requests for app and/or data restores due to user changes.
All other requests are considered standard support requests and should be submitted here. Non-emergency requests will be handled during regular business hours.
To inquire about our Enterprise plans and receiving emergency support, please use the "Contact Us" button to submit the form on this page.